2 December, 2016
Chunky Fall Vegetable Soup
Comments : 10 Posted in :
Appetizer
,
Main course
on
by :
apsara
Tags:
autumn soup
,
Fiesta Friday
,
healthy vegan soup
,
vegan fall soup
,
vegetable soup
When the weather gets cold, there are days that you just want a big bowl of hearty soup and nothing else. Yes, I woke up one Sunday morning and decided that we were going to have only soup for lunch.
If that is the case, you want everything in that soup to make a full meal. It needs-
Lots of vegetables,
A good source of protein like beans,
Some carbohydrate in the form of pasta (at least to please the kids!),
And spices.
Yum. It is a taste of heaven, with all the flavors in there. Yes, I need something like this everyday!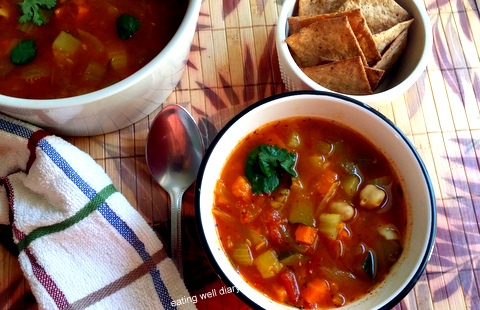 Chunky Fall Vegetable Soup
Servings: 4-6
Time: 30 minutes
Difficulty: easy
 

Ingredients:

Butternut squash- 1/4 of a medium squash, peeled and cubed

Potato- 1 medium  (not peeled if organic)

Carrots- 2 large, cubed

Celery- 4 stalks, chopped

Zucchini- 1, chopped

Red onion- 1 large, chopped

Garlic- 2 cloves, chopped

Tomato- 2 large, chopped (or use one 15 oz. can of chopped tomato)

Pasta- 1 cup (any variety- penne, rotini, shell. Choose gluten free if necessary)

Low sodium vegetable broth- 4 cups

Spices:

Grated ginger- 2 tbsp.

cumin powder- 1 tsp.

coriander powder- 2 tsp.

Paprika or mild red chilly powder- 1/2 tsp.

Freshly grated black pepper- 1/2 tsp.

Salt-  to taste

Oil- 1 tbsp. (I prefer avocado, grape seed or olive oil)

Chopped cilantro- 1/4 cup, for garnish

Method:
In a large pot add oil, lightly saute onions, garlic and ginger.
Add carrots, potato, and saute for another 2 minutes.
Add celery, butternut squash, zucchini, tomato, 2 cups of vegetable broth and bring to a boil.
Add pasta pieces and cook for 7-8 minutes on medium heat with occasional stirring till they are al dente.
Add cooked chickpeas, salt and the rest of vegetable broth and simmer for 20 minutes till flavors blend.
Season with black pepper, garnish with cilantro and serve hot with crackers or bread.
Sharing this at our blogger's party, Fiesta Friday #148 co-hosted by Linda @ La Petite Paniere and Jhuls @ The Not So Creative Cook.
Also sharing at Healthy Vegan Fridays #128 hosted by Mary @ V Nutrition and Wellness and Kimmy @ Rock My Vegan Socks and at the Plant Based Party Link Up #112 by Deborah at Urban Naturale.
10s COMMENTS