10 March, 2015
Foolproof coconut chutney- Grandmother's recipe
Comments : 24 Posted in :
chutneys
,
condiments
,
Dips
on
by :
apsara
Tags:
coconut chutney
,
coconut chutney frozen coconut
,
creamy coconut chutney
,
sattvik chutney
,
south-Indian chutney
Yes! I have moved to a self-hosted site. After spending a few months of going back and forth, I finally decided to do it. Daunting process, but I know it had to be done at some point of time. Luckily for me, I followed the exact procedure that Andrea of Cooking With A Wallflower had outlined in her Blogging Tips.
It made the move a lot easier to follow a fellow blogger's footsteps (thank you, Andrea). Now, I'm still working on getting older posts fine-tuned for this new site. If you are contemplating a move yourself, I would suggest that you do it earlier rather than later, because transfer of images from already published posts can be time-consuming, when done manually.
Here's my first post after the move- The humble coconut chutney– simple, yet elusive if the ingredients are not perfect.
Every southern Indian with a liking for chutneys has at some point tried to make coconut chutney. And most of us get disappointed by the way frozen (unsweetened) coconut performs– terrible, nowhere close to the freshly grated one. Also, a popular method of making it is with roasted chickpeas (buna channa/pottu kadalai), which sometimes is already rancid when you buy it outside India. Really spoils the taste of the product. There had to be a solution to this problem!
That's when my mom told me the way my grandmother prepared it: In those days, orthodox families would not buy anything processed (roasted), not even roasted chickpeas. So she used chana dal instead, and freshly roasted it. And used some blanched almonds for creaminess. Simply ingenious! What makes this even better is- you can use frozen coconut here and still get excellent results!
Sharing this at VVLP Part 31 at Poppy's blog bunnykitchen co-hosted by Angela.
My Grandmother's Coconut chutney
Servings: 6-8
Time: 20 minutes
Difficulty: easy
Ingredients:
fresh/frozen shredded coconut (unsweetened)- 1 cup
chana dal- 3 tbsp.
green chillies- 2-3
ginger- a small  piece
tamarind*- a lime size amount or 1/4 tsp. of paste
whole almonds- 5-6
for tempering:
oil- 1 tsp. (I recommend organic canola, or coconut, or grapeseed oil)
mustard seeds- 1/4 tsp.
urad dal- 1 tsp.
Method:
1. Soak almonds in hot water.
2. Dry roast chana dal till it turns brown. Let it soak in some water while you gather the other ingredients.
3. Thaw frozen coconut, slice green chillies and peel ginger.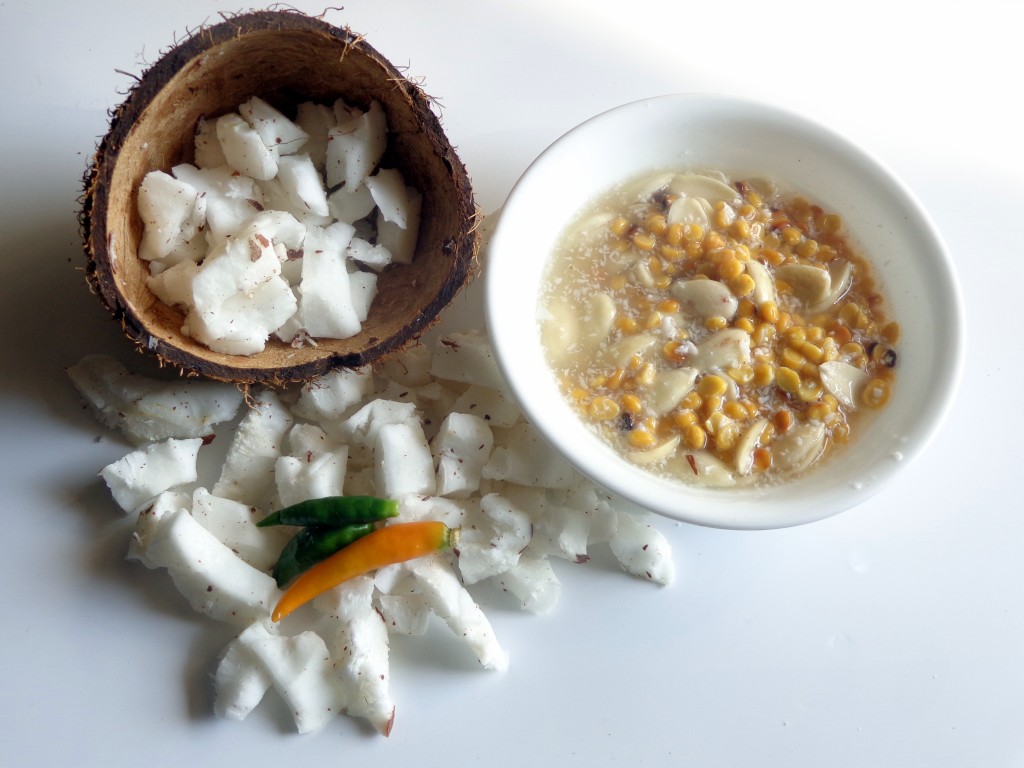 4. Remove the skin of the almonds, discard the water.
5. Grind it all together to a smooth consistency.
6. Temper some urad dal and mustard seeds in a tsp. of oil and add it as garnish.
*Note: A healthier alternative to tamarind is kokum that is as flavorful as tamarind.
24s COMMENTS