29 August, 2014
Vegetable soba noodles with peanuts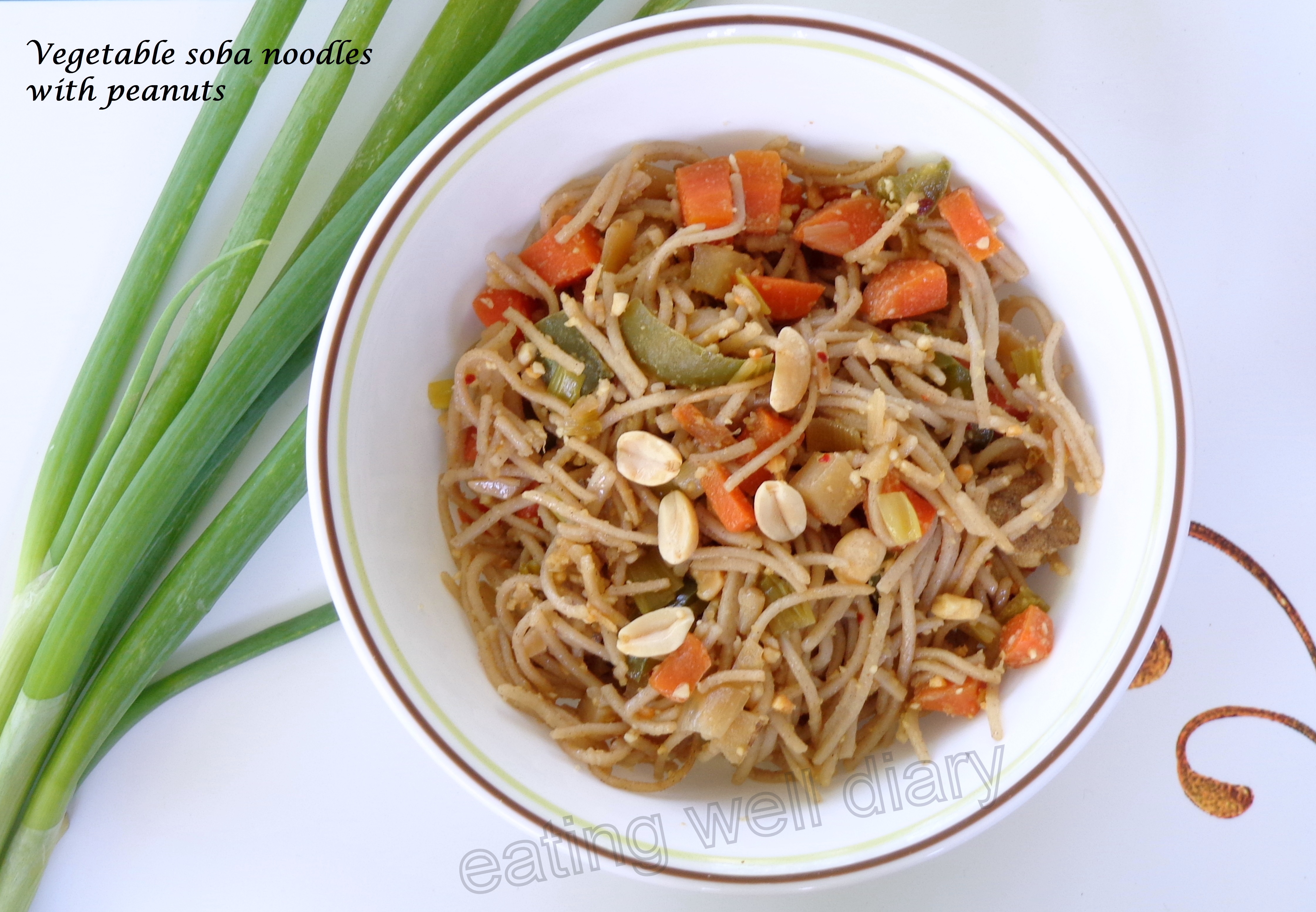 Comments : 16 Posted in :
Easy lunch box recipes
,
Main course
on
by :
apsara
Tags:
buckwheat noodles
,
noodles with peanut powder
,
soba noodles
,
vegan noodles
It's friday again, and time for Fiesta Friday party #31 over at Angie's place: the Novice Gardener's blog. I'm also sharing this at the Virtual Vegan Linky potluck over at Annie's blog, An Unrefined Vegan. Do check both the links for great food ideas!
Soba is the Japanese name for buckwheat, a gluten-free grain that is known for its superior nutrition, i.e. protein content trace minerals such as manganese. Whenever I find a good brand of soba noodles in the international market, such as the one shown below, I buy many of these packets. These noodles are typically not gluten-free though; in addition to buckwheat it also contains a percentage of wheat grain.
These packets are easy to use and contain 3 bunches of 3 oz. noodles. Cooked with vegetables, each bunch serves two and is ideal for packing a lunch box.
My choice of soy sauce is Tamari or Tamari lite. This contains non-GMO soy and I believe it is MSG-free as well.
Adding peanuts makes this dish a little more filling than plain noodles.
Vegetable soba noodles with peanuts
Time: 30 minutes
Difficulty: easy
Ingredients:
soba noodles- 3 oz.
chopped carrots- 1/3 cup
chopped bell pepper- 1/4 cup
chopped green onion- 2 tbsp. (white part only)
minced ginger and garlic- 1/2 tsp. each (garlic is optional)
roasted peanuts- 1/3 cup
red chili flakes- a pinch
salt- to taste
organic canola oil- 1 tbsp.
tamari soy sauce- 1 tsp.
Method:
* Grind the roasted peanuts in a small spice grinder. Set aside. Cook soba noodles in boiling water for about 4 minutes. Drain.
* In a pan, heat oil. Saute garlic, ginger. Add red chili flakes and soy sauce.
* Add chopped vegetables (except green onions) and salt. Cook till vegetables are tender.
* Once vegetables are cooked, add noodles, powdered peanuts. Top with green onions and garnish with a few roasted peanuts.
16s COMMENTS