1 April, 2016
DIY Easy, 3-Ingredient, Non-Toxic Laundry Detergent (Lavender)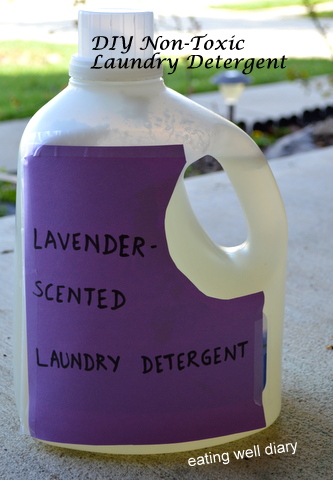 Comments : 12 Posted in :
Ideas For Non-Toxic Living
on
by :
apsara
Tags:
DIY detergent
,
Dr. Bronner's castile soap
,
easy detergent recipe
,
eco-friendly detergent
,
Fiesta Fridays
,
green detergent homemade
,
lavender DIY
,
plant-based soap
What?!! Soap recipe in a food blog, you ask.
But I have to tell you that since I started to follow a healthy lifestyle, I'm constantly trying to eliminate toxic products in my home. That includes what we put on our skin too! After all, toxins from products that we put on our skin DO get directly absorbed into the body. Since they do not have a chance to go through the digestive tract, the probability that they will get eliminated from the body naturally, is low. This includes carcinogenic compounds such as dioxane, pthalates, perfumes and dyes.
Moreover, if you're conscious about using sustainable products and saving the earth by using bio-degradable materials that do not pollute our rivers and lakes, chances are this thought has crossed your mind too.
Striving to buy only natural and organic products can send the monthly budget skyrocketing. Making non-toxic products at home will save money and is actually very easy too! Trust me, I've also wondered how DIY enthusiasts find time to actually make so many things at home. But once you get the hang of it, it is NOT time consuming at all; we just need to spend an hour to make this detergent that lasts 6-8 weeks in a household of 4 people.
I am starting a new category in my blog, "Ideas For A Non-Toxic Lifestyle" and will post about my experiences with the same. Yes, I'm turning into a DIY enthusiast and I'm loving it!
For example, Ecos is a great non-toxic laundry detergent product and has a rating of C+ by the Environmental Working Group. We have been using it for many years and love it. I highly recommend this product that can be found in wholesale markets like Sam's Club and Costco. (picture courtesy: Costco.com ) Disclaimer: I'm not getting paid to say this.
But, what  if we made our own detergent using just 3 simple ingredients?  It is not even 1/3rd the price! After discovering this method, I feel SO good about reusing the same container for our homemade, sweet-smelling lavender detergent. 
To make detergent at home, we need to use something called castile soap. The most popular brand of Castile soap in the U.S is that of Dr. Bronner's. I used the one made with lavender essential oil, and is available at stores such as Kroger, Costco etc. for around $10. You only need 3/4 cup of this to make one batch of detergent. And it has many other uses as well… that will be posted in the future in this blog.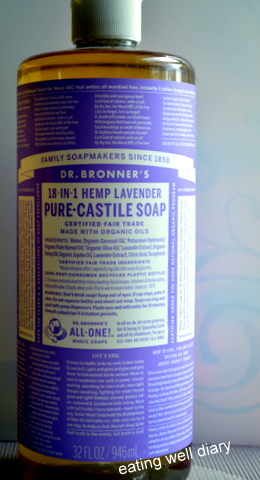 What is Castile Soap?
"Castile" means any vegetable oil-based soap, as distinct from animal fat-based soap. "Pure-Castile" is now also your guarantee that what you are using is a genuinely ecological and simple soap – not a complex blend of detergents with a higher ecological impact due to the waste stream created during manufacturing and the detergents' slower biodegradability. (Source: FAQs from Dr. Bronner's page)
How Easy Is It To Make Your Own Detergent?
Super-Easy! You only use 3/4 cup of the castile soap and need to spend an hour to make one batch. I have made this detergent twice in our household and we are very happy with it. It is not thick in consistency as the ones we get commercially, but it works well!
Here's what went into my soap, 3 ingredients- washing soda, castile soap and baking soda. Washing soda is not available in stores around me, so I bought it online and it is not expensive either, if you get free shipping. Baking soda, of course, is dirt cheap especially if you buy it in bulk.
Sharing this at Fiesta Friday #113 co-hosted by our lovely blogger friends Sonal @ Simply Vegetarian777 and Laurie @ TenTimesTea.  Also sharing at Throwback Thursdays #32 over at Mollie's blog Frugal Hausfrau and Foodie Fridiy #89 @ A Dish Of Daily Life.
(Recipe adapted from My Merry Messy Life  here)
Non-Toxic Lavender Detergent
Time: 30-40 minutes
Difficulty: easy
Ingredients:

super washing soda- 1/2 cup

Dr. Bronner's castile soap- 3/4 cup

baking soda- 1/2 cup

lukewarm water- about 2 gallons

In addition you will need:
a pail/bucket,
a hand-mixer,
two 1-gallon containers (or 2 appropriate used Ecos containers),
a measuring cup
a funnel to transfer the detergent into appropriate containers
Method:

1.  In a pail, fill a little bit of lukewarm water, add washing soda and baking soda.

2. They will not dissolve right away. So, use your hand mixer to mix it thoroughly to remove clumps.

3. Fill the bucket almost till the 2-gallon mark and add castile soap. Gently mix with a ladle. If the soap is added before filling water, it may foam up by that will disappear soon with stirring.

4. Transfer the watery mixture into containers using a funnel and it is ready to use. My batch lasts for almost 2 months.

Note:

I once tried to make it concentrated by halving the amount of water, but it thickened disproportionately after a week. So that is not a good idea. Use this recipe as such, even if the result is a slightly runny detergent. It works great!
12s COMMENTS